date // 21st December 2011
Ham Radio Controler 3.0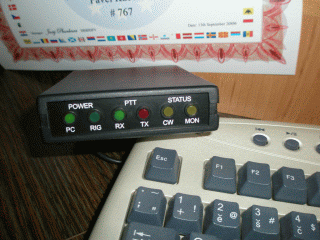 LED Control signalize for full control transceiver and computer, state PTT (RX or TX) keying from Computer (CW) opening squelch (MON - if it TRX supports) or another's signal where necessary. Controler 3.0 is supplied with USB cable between interface to computer and cable kit between interface (connector CANON ) to transceiver. Cable to transceiver is need wire connect according to different any transceiver models. Description of CANON connector is in manual of Ham Radio Controler 3.0
Operate is possible from DOS and Windows. Is then ideal for running in portable contest with notebook without serial port.
Parameters :
Dimensions:
95x27x129 mm (W x H x L)
Supply:
5VDC from USB,
Current:
max 65 mA
typical 45 mA
Content:
Ham Radio Controler
USB cable
2 cable for connection sound card
2x splitter jack 3,5''
CD with driver and software
Complete manual
Cable for transceiver can be order according type of transceiver models.